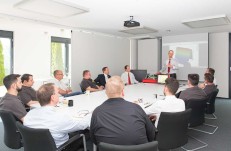 Regular training and further education of all employees in the company is an essential prerequisite for the optimal use of your technical equipment. Especially when introducing new techniques such as MES and process monitoring, there is an additional need for explanations and training for the personnel concerned. In addition, during audits it is often asked whether training courses have taken place to the required extent. So earn plus points at the next audit and make your employees fit for the use of modern means of production.
It is particularly effective for our customers to have their own employee trained by us as system representative for MES and process monitoring. You will then have an in-house expert available as your competent contact for all your daily questions.
We offer a training program tailored to the needs of the individual product areas:
In addition to the program in our training centers, we also conduct training seminars externally on request.
Appointments: the programs take place in our 2 training centers in Weingarten and Hilden. We will be glad to arrange appointments according to your wishes. Please contact us directly.