schwer + kopka as an employer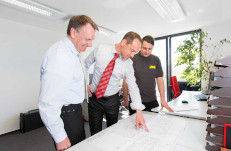 Ahead of the times - we want to meet these high demands on us and our products every day anew. That is why we are always interested in people who want to contribute to their tasks at schwer + kopka with commitment, creativity, team orientation and enthusiasm. Here you will work in a small team with a lot of freedom of choice and short distances up and down. We foster a friendly relationship with each other and are proud of our grown, medium-sized company. Our sites are located in attractive surroundings in Upper Swabia/Lake Constance and close to the major cities of Düsseldorf and Cologne on the Rhine. However, our customers are all over the world, wherever industrial production takes place.
The issues and products of schwer + kopka are more relevant than ever: the term Industry 4.0 is currently widely talked about and underlines the growing importance of digitalisation in industrial production. We have been working in this field for years, long before it was called 4.0. We are one of the leading companies in the acquisition, monitoring, processing, analysis and archiving of production data in serial production.
If you really want to set things in motion and work in a future-oriented environment, then we should get to know each other!