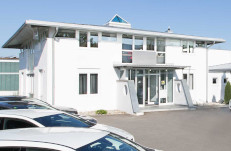 The objective acquisition of machine and production data as well as an efficient monitoring of tools and production machines are specialty and core competence of our medium-sized company. Schwer + kopka is one of the few companies worldwide to offer its own range of machine terminals and process monitoring systems plus a comprehensive MES solution in terms of Industry 4.0. We supply 4.0 from one source: from the sensor on the machine to the connection of production to ERP and CAQ – all development work is done in-house.
Wherever serial parts are manufactured, we are at home: our products are widely used in stamping, forming, machining, assembly and joining processes and other manufacturing operations. They record and analyse the efficiency of production, ensure more productivity, assure high levels of quality and archive the production data for subsequent traceability. They avoid expensive rejections, reduce tool costs, protect machines and tools against overload, enable reliable production even in unmanned blind shifts and enhance transparency and planning security.
Since 1990, our customers have been relying on the performance of our systems, our well-founded consulting services, our dedicated and motivated employees and our well-known reliable and responsive customer service. Four locations in Germany and a global network of technically competent representations are available to our customers.