Press releases and articles
We regularly publish articles and press releases in the well-known trade magazines of our customer's industries.
Below you will find a selection of the published articles in different languages.
Making Industry 4.0 projects more simple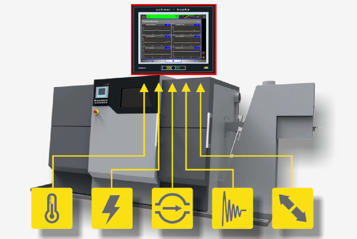 Making the realization of Industry 4.0 projects in metal forming more simple!  Published in the German trade magazine UMFORMtechnik 03/2018.
Read this German article and find out why many metal forming companies find it difficult to implement Industry 4.0 projects, and how these difficulties can be overcome.
Industry 4.0 in forming applications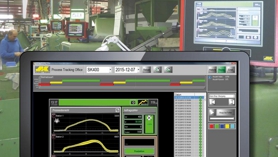 "Practical solutions for Industry 4.0 in forming technology" published in FASTENER + FIXING MAGAZINE in March 2018.
Have a quick preview on our exhibits and main topics at WIRE 2018 in Düsseldorf from April 16 -20, 2018.
"INSIGHT viewpoint" published in FASTENER + FIXING MAGAZINE, November 2017

Read about our viewpoint regarding the essence of 2017 and future aspects of digitalization in the cold forming industry.
Kopplung von MES und CAQ sichert konsequent die Produktqualität!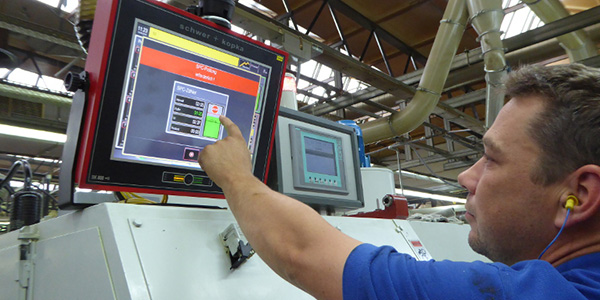 "Kopplung von MES und CAQ sichert konsequent die Produktqualität!" Veröffentlichung auf der Homepage des MES D.A.CH Verbandes
Die meisten der von der Wilhelm Schumacher GmbH (WSH) im nordrhein-westfälischen Hilchenbach gefertigten Verbindungselemente werden von Premium-Herstellern wie BMW, Daimler und Porsche im Automobilbereich oder Miele und Liebherr in der Hausgeräteindustrie verbaut. Es ist klar, dass diese Kunden die "Messlatte für Qualität sehr hoch legen". Die Qualität der täglich rund 4,5 Millionen produzierten Schrauben und Kaltformteile sichert das Traditionsunternehmen daher mit einem umfassenden Qualitätsmanagementsystem ab, in das auch die seit vielen Jahren installierte MES-Lösung SK-go!® von Schwer + Kopka eingebunden ist. Alle gut 75 Produktionsanlagen sind über die Schwer + Kopka Maschinenterminals mit integrierter Prozessüberwachung an das Firmennetz angeschlossen und tauschen umfangreiche Betriebsdaten mit dem ERP- und dem CAQ-System aus.
Development in the monitoring of forming processes

"Entwicklung in der Überwachung von Umformabläufen" published in the 50th anniversary edition of the UMFORMTECHNIK 1-2017
Schwer+Kopka GmbH, founded in 1990, is a specialist for process monitoring and production data collection systems in forming technology. Today the company is one of the market leaders. The review shows the rapid development of industrial measurement technology and data collection.
pdf Umformtechnik (2017-01): Entwicklung in der Überwachung von Umformabläufen (2.71 MB)
Successful supplier audit during forging with PTO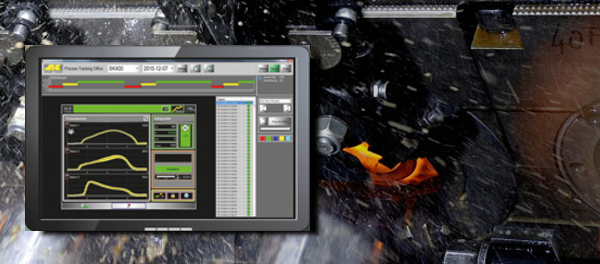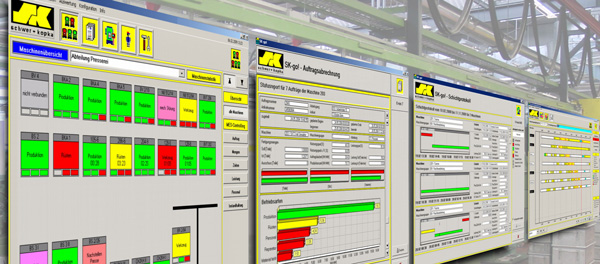 Schluss mit verlustig" erschienen in: UMFORMTECHNIK 01/2012 (Meisenbach-Verlag)
Das langsamste Schiff bestimmt das Tempo im Konvoi. Ähnliches gilt für die Fertigung. Ob ein Planziel sich nun halten lässt, zeigen zum Beispiel Andon-Tafeln. Sie addieren die Performance mehrerer Maschinen, reagieren aber träge auf Leistungsverlust der Einzelanlage. Anders ein Meldesystem, das unmittelbar an der Maschine ansetzt. Schwer + Kopka hat jetzt Mandon vorgestellt.
pdf

Umformtechnik (2012/01): Schluss mit verlustig

(1.90 MB)
Top