News
Preview Euroblech 2018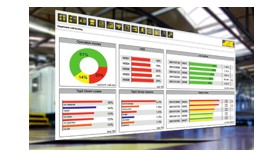 Machine and operating data collection, 4.0 solutions and process and tool monitoring belong to Schwer+Kopka GmbH´s core competecies for the past 28 years. Today all these are important topics in the drive of Industry 4.0.
At the Euroblech 2018 in Hanover from 23rd - 26th October, schwer + kopka presents practical application of Industry 4.0 within stamping and forming technology. For the first time schwer + kopka will unveil the latest generation of its monitoring systems, all equipped with a new processor generation and completely overhauled in the design of its hard- and software.
SK-go! Xpress represents another addition to the latest developments and highlights this exhibition in the area of MES. Modern dashboard screens with the most important machine and operating data analysis displays compact and comprehensive summaries that allow visceral evaluation of complex production data.
Please visit us in Hall 27, Stand J82.