ProAudit for successful certifications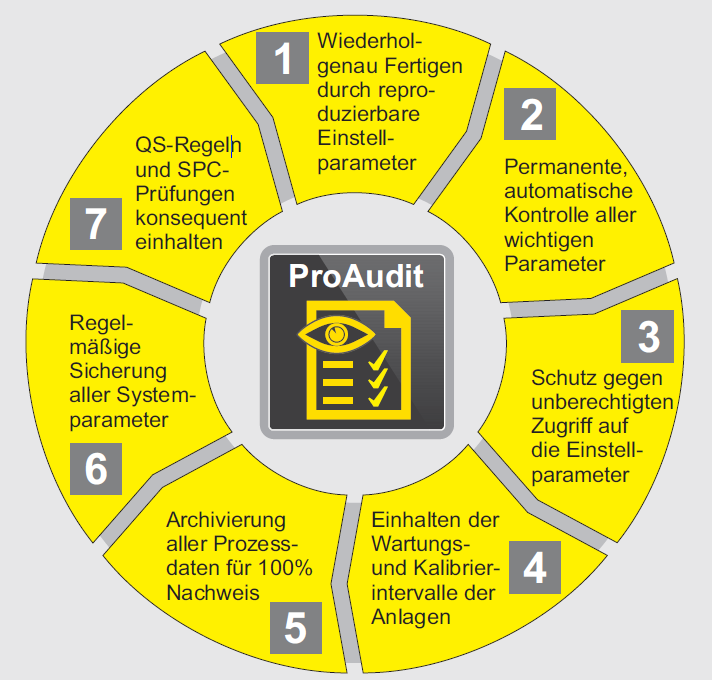 Companies in the supplier industry are continuously put on the test bench through regular audits. It is good if you already using modern process monitoring systems on your production machines. This ensures quality during the running process!
But what do you say to the auditor's following questions:
Are your process flows precisely documented?
Are your machines maintained properly?
Are you working with reproducible setting parameters?
Are only authorized employees allowed to make relevant changes?
Are the target values checked regularly?
Are the SPC inspection intervals consistently observed?
Are you really able to prove compliance with all measures?
Our ProAudit concept is an effective procedure with 7 measures for a reliable and controlled production chain and comprehensive evidence of it. The central element of ProAudit are the monitoring terminals on each machine in networking with the MES software SK-go! and interfaces to your ERP and CAQ systems.
Below you can find out how the 7 modules of ProAudit work and how you can successfully pass future audits. The current IATF 16949 as a global quality standard for meeting the demands of the automotive industry asks for precisely these components!
1. Saving article data for reproducible manufacturing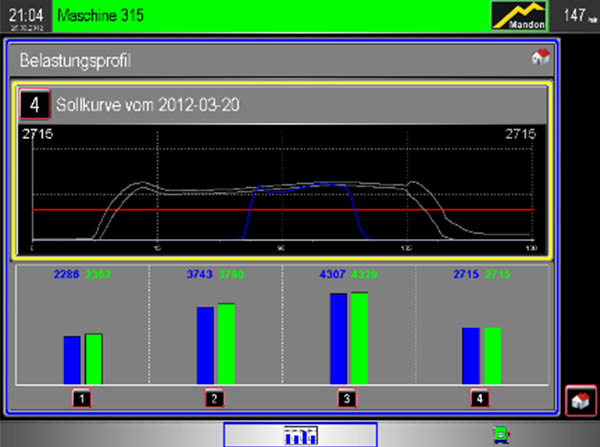 Save all setting parameters and process curves for each running part in your monitoring system. The next time you load the data, you can set the machine, tools and process monitoring in a reproducible manner and with repeatable accuracy. You have direct access to all article-relevant documents.
Ensure that your production processes always work under constant and approved conditions.
2. Adherence to specifications with the Mandon warning system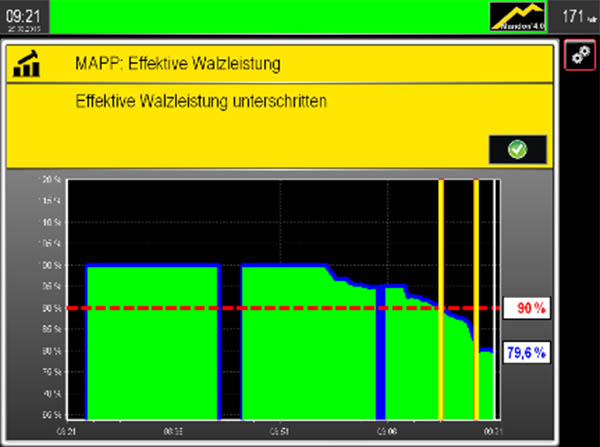 The Mandon 4.0 warning system in your process monitoring system ensures that quality-relevant specifications such as the envelope limits are also observed. Mandon automatically warns the machine operator in critical situations and, where possible, makes recommendations for corrections or, if desired, can make the corrections itself. Typical cases are e.g.
monitoring limits set too roughly
defective sensors
nonsense parameter settings
In this way, avoidable errors can really be avoided.
3. Managing user rights with Code-System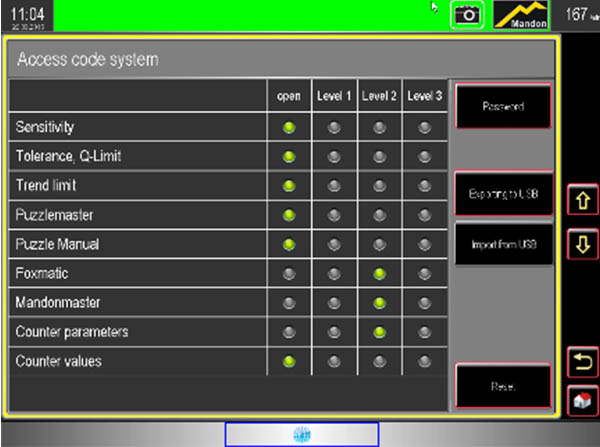 Make sure that only authorised personnel is allowed to change important setting parameters of the process monitoring. Our monitoring systems offer a three-level assignment of rights via individually definable codes or automatically via preconfigured RFID authorisation chips.
Now you can prove that the systems are adjusted and used in a qualified manner. An electronically created logbook records all setting changes on request.
4. Preventive machine maintenance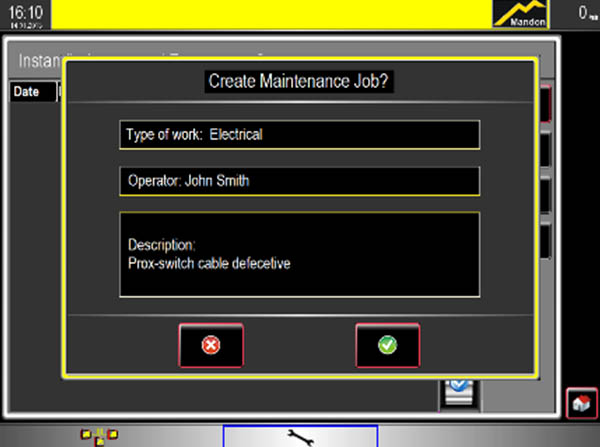 Control machine maintenance preventively and/or condition-based through the actual machine running time. In case of due work your responsible department will be notified automatically. Your maintenance personnel document the work carried out directly via the machine monitoring system. This gives you complete proof that the maintenance instructions have been observed.
Real preventive maintenance can be implemented by integrating machine condition sensors such as temperature or vibration gauges. The sensors can be connected directly to the process monitoring system, and the measured values are controlled with limits and archived in the network over the long term.
This keeps your production plants in perfect condition for high-quality and productive work. In addition, you can prove the necessary measures as part of the Total Productive Maintenance (TPM) required by IATF 16949.
5. 100% documentation of process data with PTO 4.0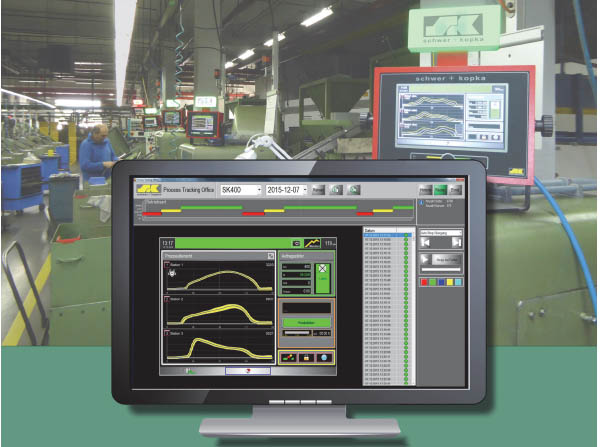 PTO 4.0 allows you to archive process data like force curves, monitoring parameters and any changes of them, faults, pictures of parts and many more. Using the replay function you can watch manufacturing orders in fast forward in order to specifically analyse orders, to prove your process is safe and controlled reliably.
Get on to the track of technical problems quickly and also verify consistency and stability of your manufacturing.
6. Automated data archiving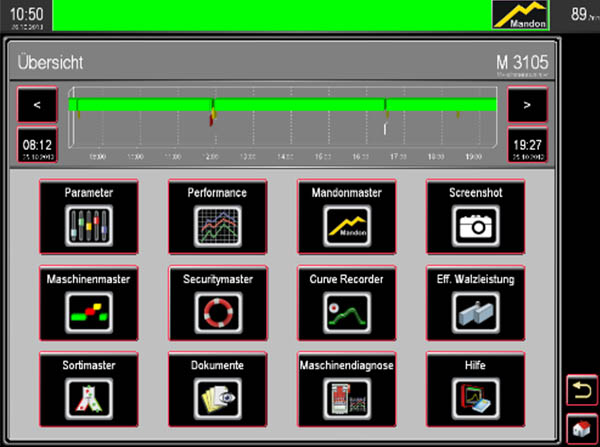 Archive all important data and parameters of your settings for your process monitoring system with our back-up tool. If your machines are networked, the back up and the recovery of parameter settings is done completely automatic.
While operating offline parameters can be saved and recovered through the standard built-in USB connection.
This is a further step towards reproduceable and reliable production.
7. Link Machines and CAQ- Systems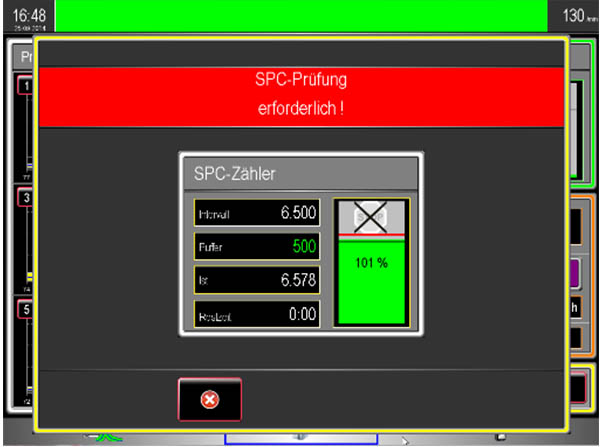 Implement the quality requirements of your customers consistently! We can help you by linking your production machinery through MES with your CAQ System and let those systems exchange important quality related data.
If required the machine is stopped when pending SPC-checks are not carried out or the parts are outside tolerance. Of course the operator is informed prior when the next SPC-check is queueing.
Do not leave quality to chance!