Options
Off the rack was yesterday! For your process monitoring unit, schwer + kopka offers a multitude of optional functions to equip the devices even better for the special monitoring tasks on your machines. Below is an overview of the most frequently requested options:
Absolute Force Monitoring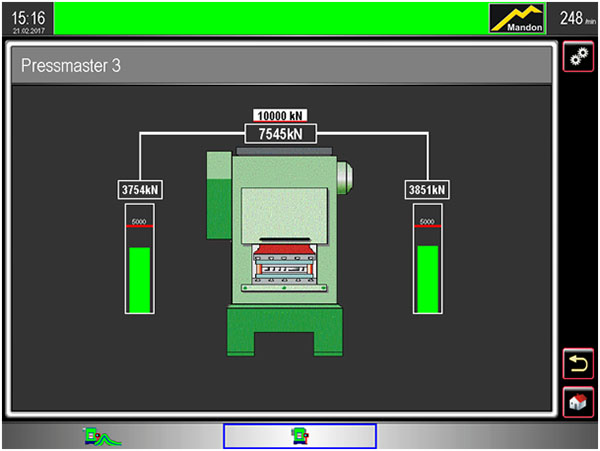 The measurement of absolute forces in kN is often needed to protect machines from overloading. Usually, so-called strain sensors are mounted on the machine body to detect the elongation of the machine bed under load. Reference sensors are used to calibrate the measuring chains in the machine.
The absolute forces of the individual sensors, the total force and the limits set for overload are clearly displayed in a machine graphic. On request, the signals of the strain sensors can be additionally monitored with the sensitive envelope technology. In addition to the normal sensors that are placed close to the tools, up to 4 strain sensors can be connected optionally.
overload protection, also in setup mode
help with repeatable setup
display of the current machine load
avoids overloads
on request also with logging of overload situations
ASS Automatic Sensor Selection (Stamping)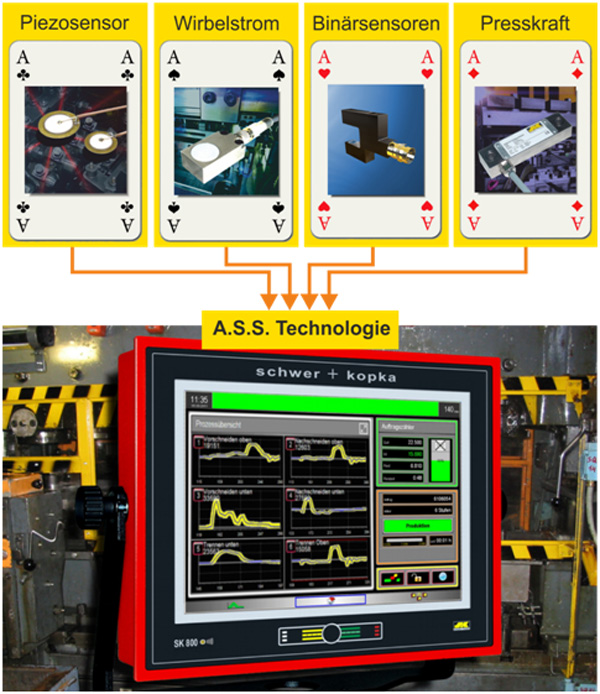 Stamping tools are often already equipped with different sensors to secure the process. For example, proximity sensors based on eddy current measurement detect whether the upper and lower parts of the tool are moving evenly. For improved detection, the tools are additionally equipped with piezo sensors, which are responsible for the reliable detection of stamping errors or punch breakage. Over time, the different tools show a colorful mixture of sensors. With the ASS technology (Automatic Sensor Selection), the monitoring device independently recognizes which sensor has been connected to which channel, while at the same time adjusting the appropriate monitoring parameters. Errors caused by incorrectly inserted or assigned sensors are thus permanently prevented.
Benefits:
fast changeover when changing tools
automatic identification of the connected sensor type
automatic setting of the correct parameters
no complicated reprogramming for sensor or tool changes
existing sensors can continue to be used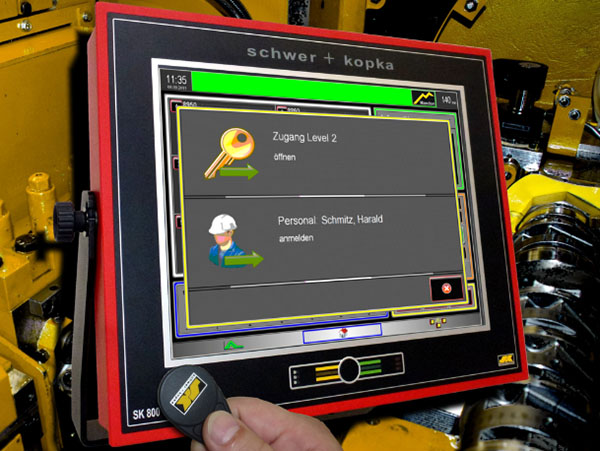 Setting and adjustment of the important minitoring parameters should be restricted mainly to trained, authorised personnel! Your auditors and certification systems will certainly agree. With our well-arranged user management tool, you can easily determine who has access to which functions. Up to 3 user levels are available - protected by individual access codes. Upon request, the activation is done via an RFID key, as it is already used in many companies for personnel access control. Alternatively, you can receive pre-programmed RFID keys from us for the 3 user levels, which you can distribute accordingly to your employees.
Benefits:
you always work with professionally set monitoring parameters
better quality and productivity
brownie points for your next audit
meets the requirements of IATF 16949 for qualified handling
Tool Protection in Stamping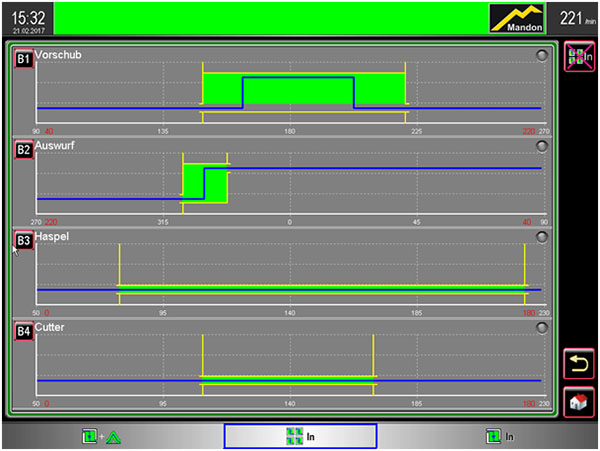 Almost without exception, today's stamping tools are equipped with binary sensors such as light barriers or proximity sensors, which ensure protection of the expensive tools during the stamping process. Typical tasks are ejection or feed controls. Often, the queries of these sensors still need time-consuming programming in the machine controls to select the required type of control and the correct crank angle range. This is easier if the binary sensors are processed directly via our monitoring systems. There, all required settings can be made quickly and conveniently on the graphical user interface with touch control commands. Appropriate queries are available for all monitoring tasks.
Benefits:
easy selection of query type
setting the angle range via touch screen
fast setting during tool changes
clear presentation with direct function control
Das Condition Monitoring ist integraler Bestandteil, wenn es um die vorbeugende Maschineninstandhaltung geht. Als Erweiterung in unseren bewährten Systemen zur Werkzeug- und Maschinenüberwachung bietet das Condition Monitoring eine umfassende Zustandsüberwachung Ihres Maschinenparks. Sensoren für Messgrößen wie Temperatur, Druck, Schwingung oder andere wichtige Maschinenparameter können direkt an das Überwachungssystem angeschlossen werden und erfassen so permanent den aktuellen Maschinenzustand. Einstellbare Warn- und Abschalt-grenzen sorgen dafür, dass Ihre Produktionsprozesse zuverlässig abgesichert sind und unnötige Stillstandzeiten vermieden werden. Die optionale Langzeitarchvierung zeigt Ihnen dazu, wie sich die Messwerte über lange Zeiträume verändern z. B. bedingt durch Verschleiss- und Abnutzungserscheinungen.
Benefits:
Überwachung, auch im Einrichtbetrieb
Warngrenze als 1. Vorwarnstufe
Messwertdokumentation mit PTO
reduziert Maschinenschäden
DMI Die Match Control in Thread Rolling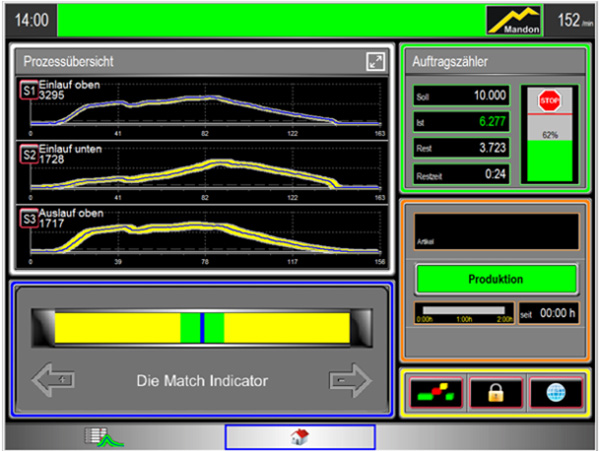 Wrong or not optimally matched dies for thread rolling are one of the main causes of poor thread quality and rapid tool wear! Only experienced machine setters achieve perfect results when setting the tools. The sensitive measurement technology and the sophisticated logic of our DMI die match indicator make it immediately visible whether the position of the two dies is matched perfectly or whether an adjustment is required. Often only minimal fine corrections of the die match position are necessary to achieve maximum operating life, which can hardly be achieved with dexterity.
We have field-tested solutions for all common and suitable rolling machines from various manufacturers.
Benefits:
faster set up of tools
helps inexperienced operators
significant increases in tool life
optimal thread quality
Setup Help with Part Data Storage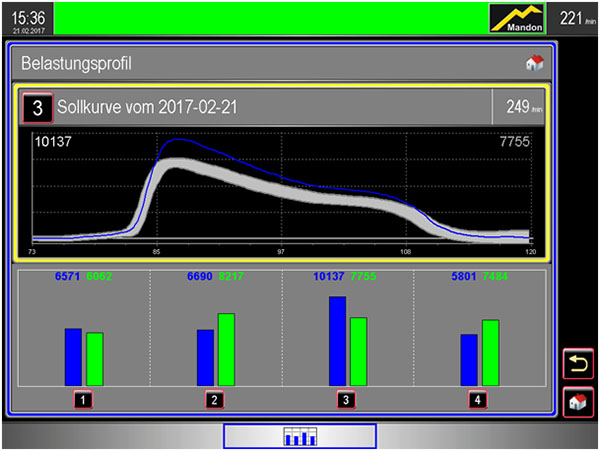 Reproducibility of the tool and machine settings is an essential factor for repeatable and reliable production! Our monitoring systems offer you a very simple option: if a part is running perfectly, save all the monitoring parameters and the current force curves with the part or tool number! The next time you produce the same part again, the stored data will be used: all monitoring parameters will automatically adjust to the saved good values. Now you compare the current force curves with the stored tested and approved nominal curves on the screen of your monitoring device. In this way, you can see directly where deviations exist and in which direction you need to correct the tool and machine settings.
Benefits:
faster and repeatable setup
constant quality due to reproducible settings
reduction of setup times
supports the requirements of the IATF 16949 for reproducible and repeatable processes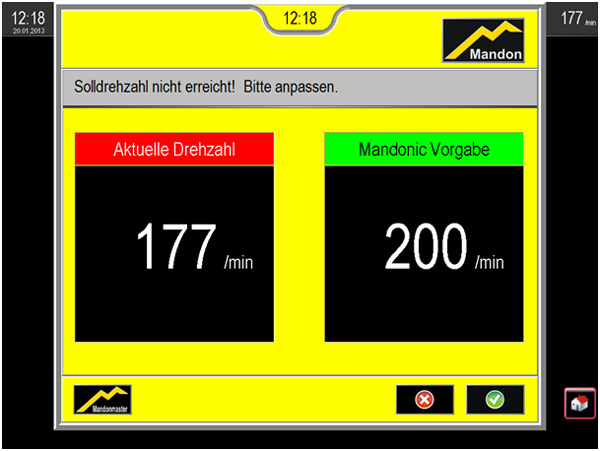 The unique Mandon® system communicates permanently with the machine operator. Mandon® thinks ahead, warns of problems at an early stage, makes intelligent suggestions for improvement, and gives targeted advice on how to improve productivity and quality. For example, if the monitoring limits are set unnecessarily coarse, if the given machine speed in pieces/minute is not reached, or if a sensor no longer functions properly.
Mandon® is your productivity insurance!
Benefits:
draws attention immediately to deficits
avoids quality losses due to incorrect monitoring settings
avoids productivity losses due to low machine cycle rates
permanent check of technical device functions
supports the requirement of the IATF 16949 for controlled process parameters
Machine Master with Error Curve Memory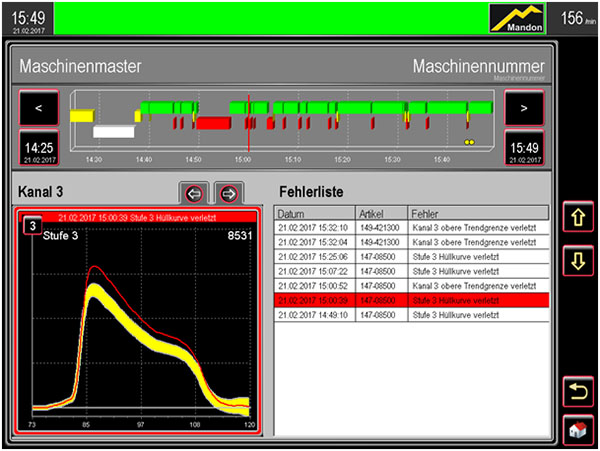 Do you know exactly what went well on your machines and what didn't go well? And what technical process faults have occurred and how often? The Machine Master gives you comprehensive information. A stop/go diagram accurately reflects the operating behavior of the machine in the last 10 hours, and the error memory shows all machine shutdowns including reason, type and location of the fault in chronological order plus the corresponding error curve.
Benefits:
sound weak point analysis
fast recognition of repeating errors
clear information for the operator e.g. at shift change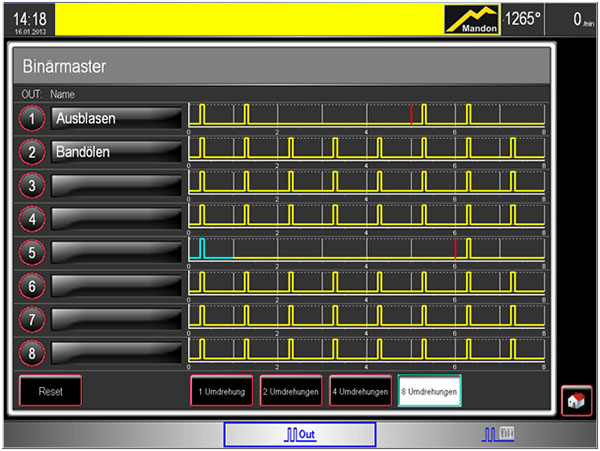 Our systems for monitoring stamping machines can be optionally equipped with an integrated 16-channel cam controller. It generates targeted control pulses down to the specific angle for certain switch functions or peripheral devices during the stamping process such as control of air blast, pulsed lubrication of the sheet metal strip, etc. Each switch output can be individually named and comfortably adjusted with regard to start angle, end angle and repetition frequency.
Benefits:
simple operation and functional control
no separate switchgear needed
can be adjusted in many different ways to all switching tasks
integrated in the monitoring device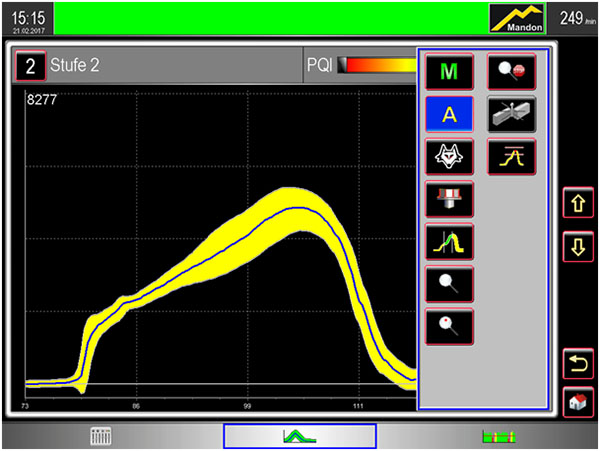 Puzzlemaster is an easy-to-use tool to quickly activate special monitoring logics for certain measuring tasks or processes. If necessary, click on the required puzzle element in the selection list, and all parameters will automatically adapt to the desired task. Finished puzzle elements are available, for example, for
rising slug detection during stamping
punching scrap detection
detection of rotated heads during forming
detection of punch breakage
switchover to peak force monitoring
activation of the Foxmatic monitoring technology
immediate stop at first envelope deviation
activation of profiled envelope curves
Benefits:
fast switching between monitoring logics
always the appropriate limits and algorithms for certain types of errors and operations
optimal error detection
avoidance of rejects
Return Monitoring during Thread Rolling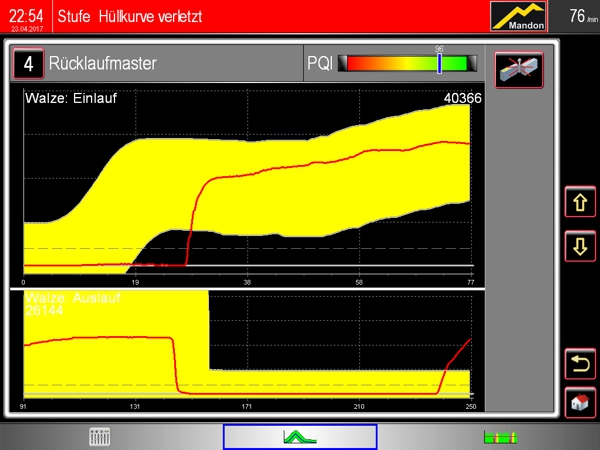 When making screw threads on a flat die thread rolling machine, a rolled part may get caught on the movable die and be pulled back into the roll die gap. These so-called roll-backs can cause considerable damage to the tools or even destroy the tools, tool holders, part-feed rails, pusher blades or other parts.
The monitoring systems of schwer + kopka for thread rolling machines can be equipped with a roll-back monitoring channel which immediately shuts off the machine when roll-backs occur. A separate monitoring channel checks whether the return stroke of the machine ram shows an increase in signal on the rolling force sensor. If a force pulse is registered here, the monitoring system switches off the machine directly with an emergency stop command to prevent further damage.
Benefits:
overload protection for tools and machine
reduces tool costs
avoids expensive machine repairs
reduces machine downtime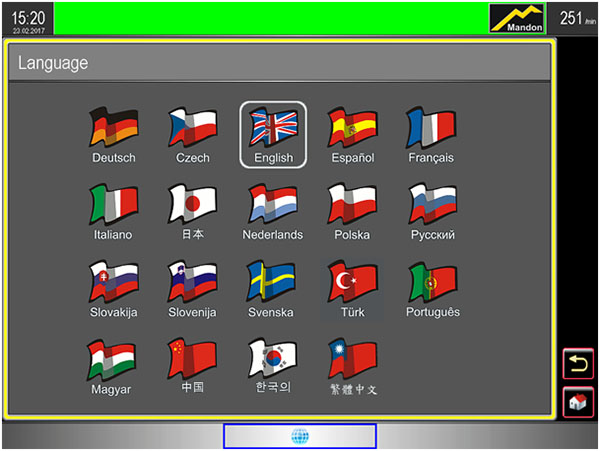 Our equipment systems and terminals will certainly speak your language! After all, they are at home on every continent and need to be understood everywhere. Simply click on the flag icon in the settings menu to change to another language - German, English, French, Italian, Spanish, Russian, Turkish, Chinese, Japanese, Korean and many more. On request, the language selection can also be done automatically when the user logs in.
Benefits:
every operator uses the language most familiar to him
avoids operating and understanding problems
improves the use of the systems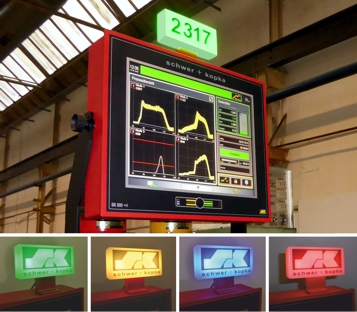 See from a distance what the machine is doing right now! Is it running or is it standing still, is it changed over, is the next SPC check due, or is there no active job? Modern technology makes the warning light shine in different colors depending on the respective machine condition. The LEDs are extremely bright and therefore well visible from afar. With the integrated magnetic base, the compact lamp (dimensions 135 mm W x 30D x 100H with stand) can be attached anywhere. The connecting cables are pluggable and available in different lengths.
Benefits
display of the current machine status visible from afar
makes you aware of required work such as SPC measurement by means of colored flashing
can be labeled individually, e.g. with customer logo or machine number
durable LED technology