Applications
Monitoring systems from schwer + kopka are used in many areas of serial production of vendor parts. The automotive industry as well as the aviation industry put particularly high demands on the quality of the parts to be installed. Most of these industries require process-integrated monitoring systems. Their operation and consistent use is monitored as part of regular audits.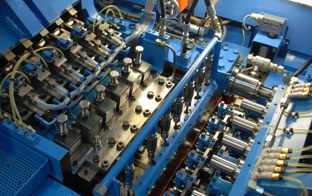 Process and tool monitoring systems have been part of the state of the art in forming technology (massive forming) for many years.
They ensure a consistent product quality of the formed components even at the highest production speeds and protect machines and tools against overload damage at the same time.
The various forming processes are monitored on every possible type of machine of the various manufacturers. Typical fields of application are single- and multi-die presses, boltmakers, nut formers, and special designs, which usually work from wire. Another focus is on machines used to roll the threads onto prepressed blanks in the fastener industry. Our systems also monitor further work steps such as thread tapping, trimming, secondary cutting operations, etc. Many machine builders are offering our process monitoring systems as factory fitted options on new and rebuilt machines.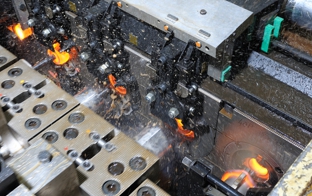 Precision forged parts such as wheel flanges, steering knuckles, gear wheels, rolling bearing rings, nuts and many other highly stressed technical components are nowadays manufactured fully automatically from bar stock on multi-stage hot formers.
Our monitoring systems for these applications are equipped with specially developed monitoring algorithms, that monitor and secure the production process during forging, including the regular bar change.
We have developed sensors that enable measurement of the forging forces station by station even under the harsh working and environmental conditions of a forging press. They monitor the forming process in the individual forging stages and thus ensure an ideal fault detection.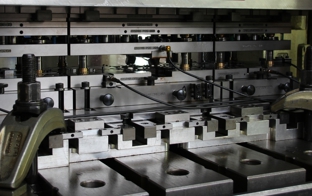 Stamping, forming, drawing, bending, pressing, embossing, flanging, piercing, inserting bolts or nuts, cutting or forming threads – Stamping dies are becoming more and more elaborate as the demand for ever more complex products increased.
Modern progressive dies operate multi-stage and are combining numerous operations to produce a finished part requiring no other work steps. The increasing complexity not only made the dies more expensive, but also more prone to process errors. Faulty stampings as caused by punch breakage, cracked dies, feeding errors, rising slugs, rising stamping scrap, double material, crack formation on drawing edges, etc. not only threaten process reliability and product quality but often lead to serious die damage with a corresponding loss of production.
The modular design of our process monitoring systems in respect to the types of sensors that can be connected, the number of measuring channels as well as the freely configurable monitoring logics make our systems the first choice for various applications and measuring tasks. We supply adapted monitoring techniques for common faults and errors in stamping. Today, systems from schwer + kopka are in daily use on a wide variety of stamping machines and presses from all leading manufacturers.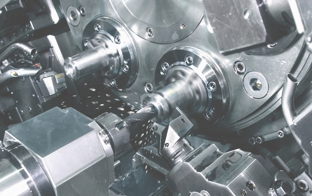 We offer specially tailored sensors and monitoring solutions for metal cutting machines such as automatic lathes, drills or thread tapping machines.
Easy-to-install sensors for screwing to force-absorbing machine components such as tool holders, longitudinal and cross slides or their drives measure the cutting forces respectively acoustic emission signals. Alternatively, current sensors register the power consumption of electric motors, powering the tools or the parts to be processed.
Sophisticated monitoring algorithms for tool breakage, collision as well as trending for monitoring the effects of wear comprehensively secure the process. Specific limit values for the detection of idling and caught chips ensure that the machines are not turned off without reason.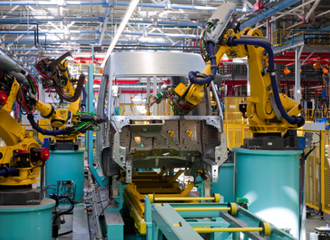 Today, many assembling operations demand a process-integrated, comprehensive monitoring of all relevant quality-determining parameters.
Suitable monitoring parameters are force/travel or torque/crank angle measurements. A good process is given, when the measured signals have reached certain end values, have passed through defined control windows, or fit into tight envelope bands. This is the only way to ensure that each individual operation has been carried out with the specified target values and thus meets the quality requirements. Our modular system was especially designed for the requirements of the assembling and testing industry.
Up to 128 different production processes can be monitored with one system in a network. The processes can run synchronously and asynchronously. Monitoring is carried out in free combination of the proven monitoring windows and the dynamic envelope technology. The system can be linked with central servers for documentation purposes and furthermore, are characterised by an easy handling. Typical applications include press-fitting, assembling, riveting operations, flanging, bending, rolling and monitoring of test operations.
A special application is clinch monitoring which is frequently found in the sectors of car body manufacturing or white goods. Special monitoring programs are available for this purpose, which includes amongst other things the remaining bottom thickness as the most important quality feature. A measuring program memory ensures that the appropriate parameters for each joint are checked in the correct sequence for each material pairing. That applies to complex processes such as clinching a car body part made of several sheets with adjusted thicknesses and strengths (so-called tailored blanks).